ATOMIC AMZ 1/27 MINI 4WD TOURING CAR (RTR KIT, TX INCLUDED)
New Car Kit 1:27 made by Atomic RC, sold by Minizracing.
The RTR Kit AMZ001-4WD is built on a carbon fiber main chassis with an upperdeck made from the same material.
The double wishbone suspension allows for droop, toe and camber adjustment and the shocks come grease-filled to achieve the maximum traction.
Included in the kit the designed platform of 7.4V Li-Po battery packs,
a 2.4GHz FHSS radio system and a micro brushless speed controller made by Hobbywing.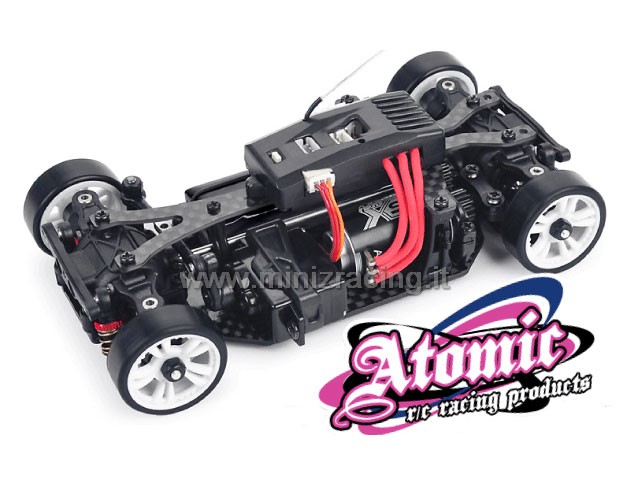 Features
- Chassis compatible with Mini-Z A.S.C series
- 20% weight decrease compare MA-015 (in Ready to Run mode)
- Professional micro brushless speed control cooperation with world leading brand HobbyWing. (Support programming adjustment)
- VMX 5000kv BB brushless motor
- Front and rear double swing arm, for F/R droop, toe-in/out, camber…etc
- Front and rear ball diff. and universal drive included
- I.A.S. grease shock for easy to setup ride height and weight balance. Excellent (7) shock absorption
- Machine cut carbon fiber chassis and flex. upper deck
- 64 pitch gears, aplenty range gear ratios
- Li-po 2S 7.4V platform
- 2.4Ghz FHSS proportional 3Ch radio transmitter include
- Ready for Lexan body. (Optional item, not include in kit)
Code: AMZ001-4WD
Source: Atomic RC
Team Minizracing!