Awesomatix A800MMX 1/10 Electric Touring Car
Awesomatix has made its name with its advanced and revolutionary designs that have produced the highest quality and fastest competition RC Racing cars.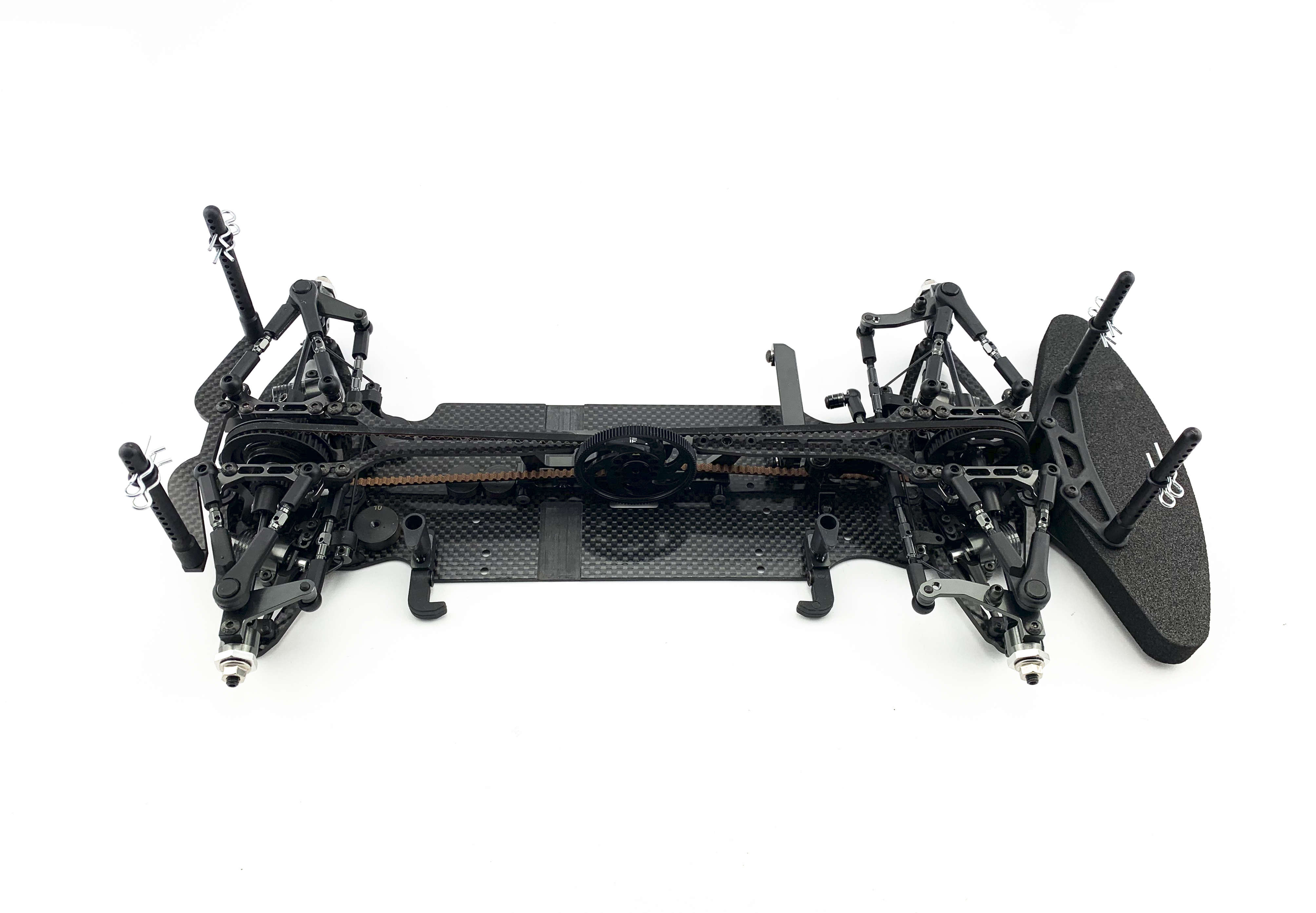 Further propelling the standard within the industry, Awesomatix created a mid-motor platform featuring a farther forward center pulley, equal length belts, and a longer suspension arm design. These features characterize our new MMX kit and yield significant performance enhancements for all types of racing surfaces and grip levels.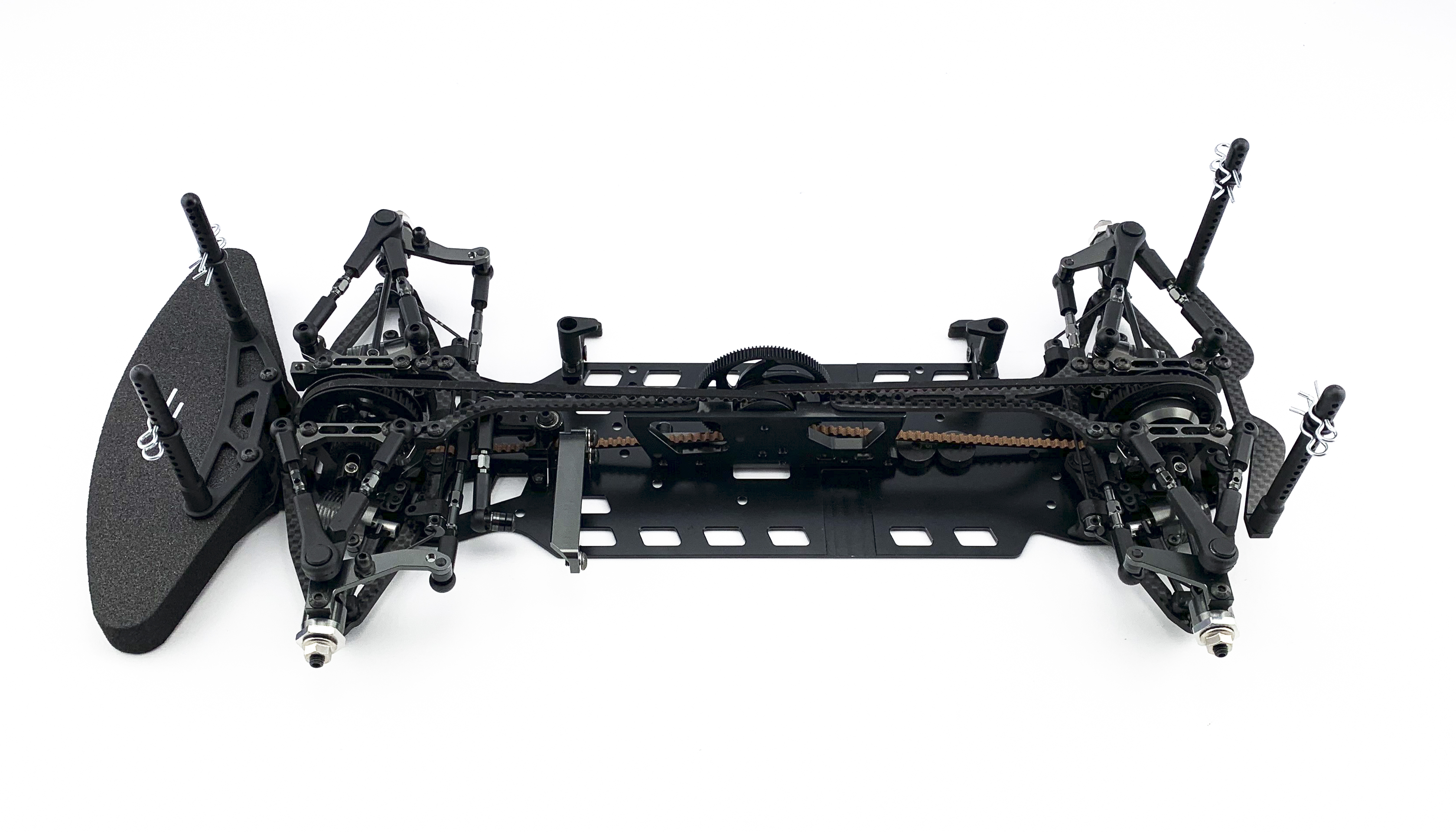 The primary improvements are the motor mount and top deck design, which offers 100% symmetric flex and a multitude of flex possibilities. By using our special top Deck screws (ST019) to secure the top decks to the motor mount, there are several flex settings and combinations possible from very stiff to very soft, from aggressive to calm, and even from "fixed" to "moving" action. Additionally, the two piece design provides increased stability and longevity of the top deck itself.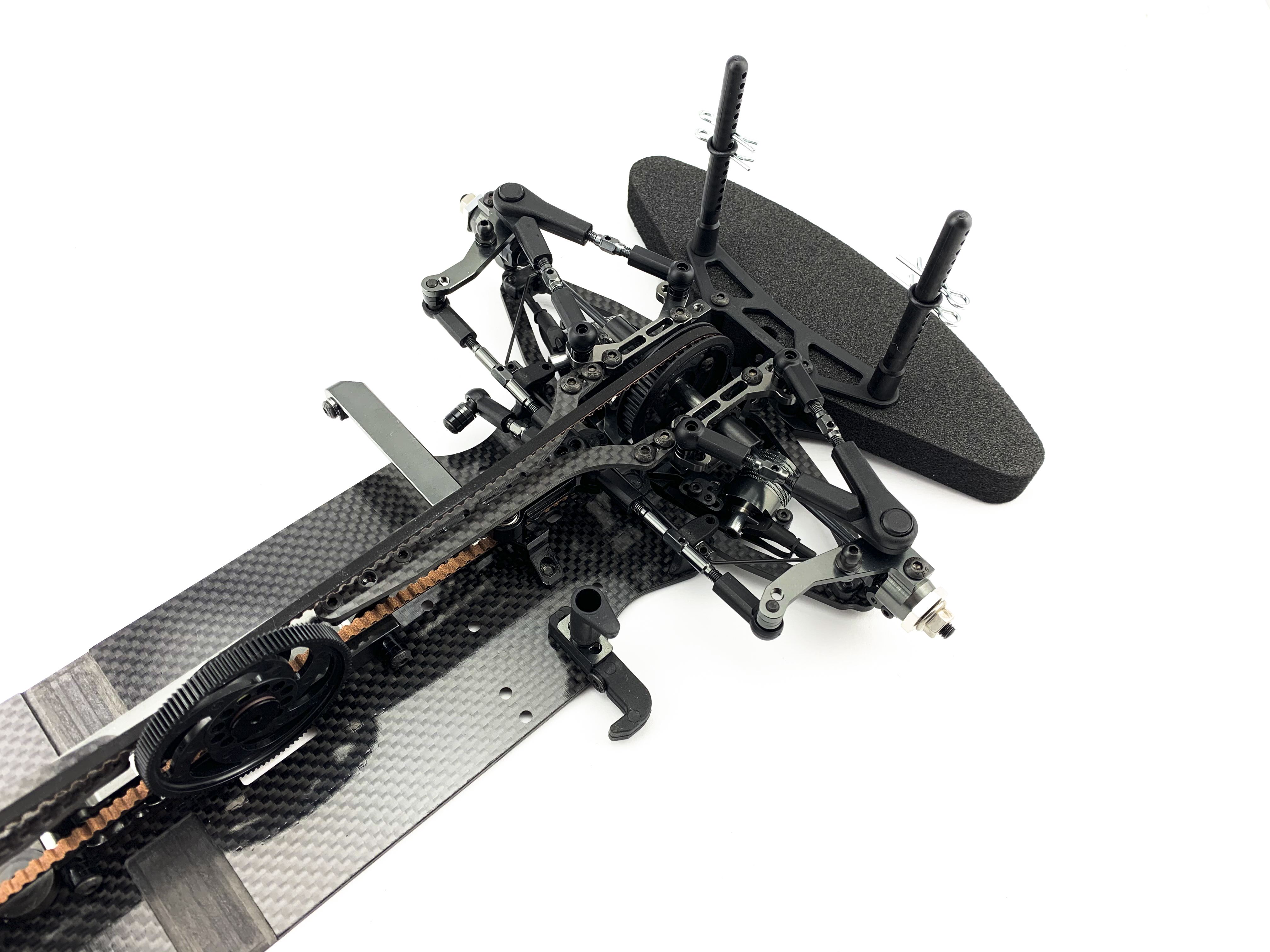 This new 2 piece top deck design with the multiple pivot bolts on the center line resets the industry standard by providing an entirely new car's frame flex system unlike anything that has been done before. The comprehensive range of setting and adjustment possibilities will prove to be a major step in touring car design and development.
To further improve on the flex characteristics of the car, we created the new AM08-3 Shocks Holder for the front end of the car. This shock holder is no longer connected to the bulkheads and allows more caster flex, and thus a more rigid damper position.
Our newly designed motor mount remains in the center of the car, but we managed to move the motor 0.5mm further inwards to improve the left/right balance with today's modern light batteries. This also further reduces the polar moment of inertia.
In addition to the new AT120XB 20T Alloy pulley, we added an advanced ball bearing anti skip unit into the motor mount, directly under the pulley, to reduce the risk of belt skip.
Just like many of our previous kits, the spur gear nut (AT55M) can still be changed in seconds with the same 2mm hex driver. To prevent any interference with the 2mm hex size of the AT55M Spur Nut, the screw holding the pulley on the motor mount has been changed to M2.5 size and will use a 1.5mm hex driver.
Steering design is a critical component of a precise and well-handing car. Our goal was to minimize the play inside the steering system to further improve the precision and feeling on the track. The new Single Bellcrank Steering design combines the same steering characteristic as the BSSX steering but with fewer parts, less free play, and less weight. The steering lock angle can easily be limited by using our standard screw and shim on the lower side of the Bellcrank without the need of any specially made limiter.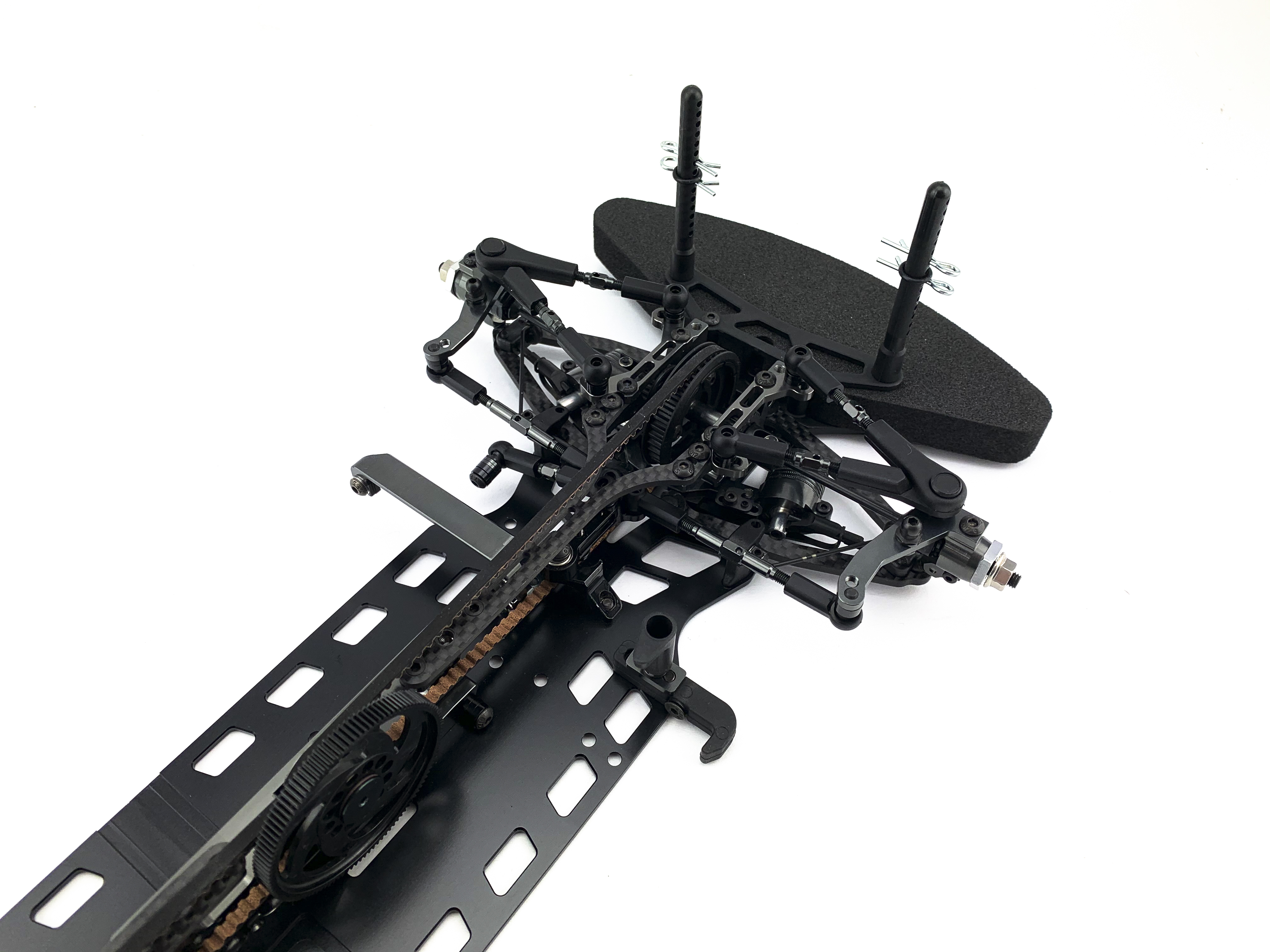 AM19-FX Upper Arm Holders will also be included in the kit, which feature a stronger, more durable design. These holders also provide a larger angle between the top links which results in smoother suspension operation.
Our new P63 Damper Vane Pistons are a significant improvement to the suspension of the car. Utilizing a new advanced shape and a special rubber material, this new piston is resistant to silicon oil. These new parts and designs mean rebuilds will be much less frequent.
In addition, we now include ST69-00 precision screws and alloy AT119 Screw Holders as a standard kit part.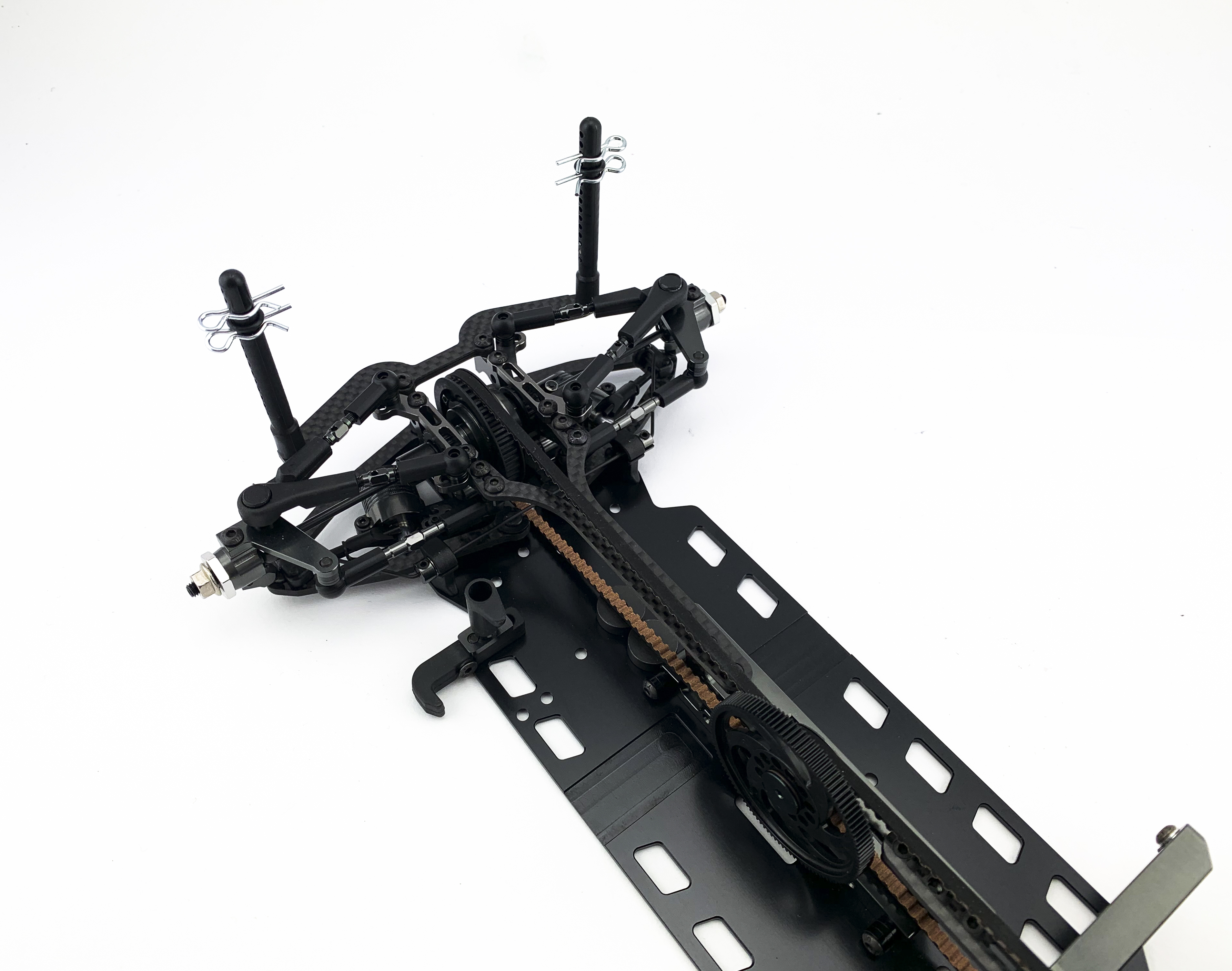 These new features and profound design ideas culminate in a touring car that is easier to drive and maintain, with enormous "raw speed" and a wide range of setup and flex options for all drivers.
Special Features of the A800MMX and A800MMXA versions:
- C01B-X-MMA 7075T6 2mm Alloy Lower deck for A800MMXA kit
- C01B-X-MM2 2.2mm Carbon Lower deck for A800MMX kit
- newly designed C127S Soft Topdecks for A800MMXA kit
- newly designed C127 Topdecks for A800MMX kit
- newly designed AM177 Motormount
- newly designed SB1 Single Bellcrank Steering
- newly designed AM08-3 Shocks Holder in front
- newly designed P63 Damper Vane Pistons
- newly designed AT120XB 20T Alloy Pulley
- newly designed ball bearing anti skip unit
- AM19-FX Upper Arms Holders
- ST69-00 + AT119 Spring Screw + Holder
- C04M1-LA Long Arm Set
- IFJ Inner Front Joint System
- IRJ Inner Rear Joint System
- D2.2-S-P Dampers (not pre-build)
INFO:
- Radio Receiver and Transmitter, ESC, Servo, Motor, Fan, Pinon and Spur Gear, Lipo, Bodyshell and Tires are not included in the kit. They are only used for the presentation of fully equipped car.
- Due to our policy of continuous product development, the exact specifications of the kit may vary.
Awesomatix do reserve all rights to change any specifications without prior notice. All rights reserved.
Available on www.minizracing.it